Top Marijuana Stocks To Buy In The Stock Market Today?
Many marijuana stocks in mid-September are starting to look much better in trading. At end of August moving into September marijuana stocks were trading with heavy volatility. Much of the action that took place was a continuous pattern of up and down that most of those days ended in the red. Now in the first half of a new month, the sector is starting to show better upward consistency. Yet with marijuana stocks, as some know trade with an unpredictable pattern that can be frustrating to keep up with.
That is why for a long while most people who have seen good gains know to take profits as they come. If you happen to wait too long, especially with how volatile marijuana stocks can be you may find it tough to see the return you want. Nevertheless with a good strategy and some thorough due diligence you can have a chance to become profitable with marijuana stocks. The cannabis industry is still developing and showing that there are still many opportunities to be had.
With no official federal reform in place, the USA cannabis market is still working to create more efficient regulations. News of legislation can also be a catalyst to seeing more momentum in the sector. When looking for marijuana stocks to watch knowing current info and identifying patterns and trends can be a big help. It can give you a better idea of which cannabis stocks are better to invest in. The marijuana stocks below are several companies to keep on your radar this month.
Marijuana Stocks To Watch Right Now In The Market
Aurora Cannabis Inc. (NASDAQ:ACB)
Red White & Bloom Brands Inc. (OTC:RWBYF)
Acreage Holdings, Inc. (OTC:ACRHF)
Aurora Cannabis Inc.
Aurora Cannabis Inc. produces, distributes, and sells cannabis and cannabis derivative products in Canada and internationally. It also engages in facility engineering and design, cannabis breeding, research, production, derivatives, product development, wholesale, and retail distribution activities.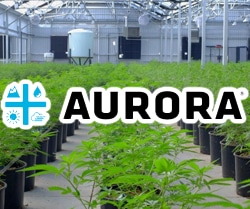 In more recent news the company announced it will host a conference call to discuss the results for its fourth quarter and full fiscal year 2022. The Company will report its financial results for the fourth quarter and full fiscal year of 2022 after the close of markets that same day. If the company can show positive results it may lead to better trading for this marijuana stock to watch.
Red White & Bloom Brands Inc.
Red White & Bloom Brands Inc. engages in the cultivation and retail of cannabis products primarily in Michigan, California, Florida, and Oklahoma. The company is headquartered in Vancouver, Canada. Right before the end of August the company reported its Q2 2022.
Q2 Highlights
Q2 2022, is the first full quarter the company operated the PharmaCo assets.
In April 2022, the Company closed on the sale of its Granville, Illinois greenhouse, associated real estate, and certain greenhouse equipment to New
Branches LLC of California, an arm's length purchaser, for a total cash purchase price of $56.1 million
On June 15, 2022, RWB entered into an agreement with C3 Industries to license the PV brand in Missouri and Massachusetts.
[Read More] Cannabis Industry Outlook Trends And News 2022
Acreage Holdings, Inc.
Acreage Holdings, Inc. formerly High Street Capital Partners, is a principal investment firm specializing in the cannabis industry. During the first few weeks of August, the company released its Q2 2022 earnings.
Second Quarter 2022 Financial Highlights
Consolidated revenue was $61.4 million for Q2 2022, an increase of 39% year-over-year.
Gross margin of 50% compared to 52% in Q1 2022, and 54% in Q2 2021.
Adjusted EBITDA* was $10.4 million in Q2 2022, compared to $8.1 million in Q2 2021, and $8.6 million in Q1 2022. Adjusted EBITDA* as a percentage of consolidated revenue was 16.9% for the second quarter of 2022.
[Read More] 2 Marijuana Stocks To Watch This Week For Better Momentum
Words From The Company
"We were thrilled to execute on a significant milestone with the launch of adult-use sales in the state of New Jersey during the second quarter," said Peter Caldini, CEO of Acreage.