Top Cannabis Stocks And Investing In A Volatile Market
As the market continues trading lower are you looking for top marijuana stocks to buy for short-term gains? Since the start of 2022, the best cannabis stocks to watch have continued to put in new 52-week lows as May progresses. Unfortunately for cannabis investors, this trend has been going on for over a year primarily due to delays with US federal marijuana legalization. Although this is unfortunate for cannabis investors that are already in a position in pot stocks it could be an opportunity for new investors.
At the present time, many investors are contemplating selling their long-term positions because of current market conditions. In fact, many retail investors get this part of trading wrong selling when the market is down and starting positions when the market is reaching highs. For long-term investors, a market crash could be a great wealth-building opportunity when you pick the right stocks. As top cannabis stocks continue to establish new lows there could be significant upside for traders in the short and long term.
Top Pot Stocks In The US And Global Markets
Currently, many analysts are predicting the cannabis industry is going to more than double in the next five years. According to a recent report from Statista by 2027 spending on legal cannabis is forecast to reach $47.3 billion in North America. In the US Top cannabis companies like Curaleaf Holdings, Inc. (OTC: CURLF) and Trulieve Cannabis Corp. (OTC: TCNNF) are growing rapidly across the country. As new states open recreational and medical cannabis markets these top US cannabis providers continue showing strong revenue growth and gaining market share.
When the market begins to recover top cannabis stocks could have potential gains for active traders and long-term investors. Because most top pot stocks are now trading at penny stock levels, they could be prone to much more market volatility. In general, learning to take advantage of this volatility could produce short-term profits that can be later allocated into long-term positions. As the market continues establishing new lows let's look at 3 top marijuana penny stocks for your watchlist going into the weekend.
[Read More] 2 Marijuana Stocks To Watch For Your May 2022 Watchlist
Best Marijuana Stocks For Your Watchlist In May 2022
Agrify Corporation (NASDAQ: AGFY)
Aurora Cannabis Inc. (NASDAQ: ACB)
Clever Leaves Holdings Inc. (NASDAQ: CLVR)
Agrify Corporation
Agrify Corporation is a US-based precision hardware and software provider for the indoor farming business. The company currently offers vertical farming systems, integrated grow racks, and LED grow lights. Agrify's cutting-edge software and technology solutions help businesses achieve maximum quality, consistency, and efficiency at the lowest possible cost. The company's services include consulting, engineering, and construction. Precision Extraction Solutions and Cascade Sciences, two well-known manufacturers of cannabis and hemp extraction, post-processing, and testing equipment and solutions, were recently acquired by the company. In October, the company announced its entry into the Arizona cannabis industry, thanks to a partnership with Olive El Mirage. Lab Society, a pioneer in distillation and solvent separation solutions for the cannabis extraction sector with a $10 million annual revenue, was acquired by the company on February 2nd.

On May 11th Agrify released its first-quarter 2022 results with $26 million in revenue up 271% year over year. In addition, first-quarter contractual backlogs increased by $77 million. Also, important gross profit for the first quarter totaled $4.2 million or 16% of revenue. The company sustained a net loss for Q1 of $8.9 million or $0.36 per diluted share. Adjusted EBITDA was a loss of $6.1 million in Q1 2022 compared to a loss of $4.2 million the prior year. On May 10, Agrify announced a $2 million deal with Boone Labs in Michigan to outfit its new production facility with Agrify's full suite of products, including 72 VFUs powered by Agrify InsightsTM software, as well as solventless extraction, hydrocarbon extraction, and ice water hash washing solutions.
AGFY Stock Performance
AGFY stock closed on May 12th at $2.34 down 14.29% for the trading day. The stock has a price range of $2.26-$35.94 and is down 74.57% year to date. According to analysts at CNN Business AGFY stock has a 12-month average price target of $11.50 per share. In this case, this would be an increase of 389.36% from its last trading level of $2.34.
[Read More] Marijuana Penny Stocks For Your List While The Market Is Down In May
Aurora Cannabis Inc.
Aurora Cannabis Inc. is a Canadian company that grows and distributes medical marijuana across the world. With the purchase of Reliva, a CBD-producing company in the United States, the company recently announced its entry into the US cannabis market. Aurora has added three new cultivars to its San Rafael '71 range. The company dispatched an $8 million cannabis shipment to Israel on the international front. The company's balance sheet is being rebuilt, and the company has completed the first shipment to the French medicinal cannabis pilot program.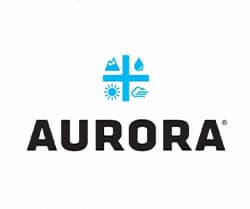 On May 12th the company released its third-quarter fiscal 2022 results remaining the #1 Canadian LP in high margin global medical revenue. In general, medical cannabis net revenue was $39.4 million an 8% increase from the prior year. Additionally, Q3 2022 total cannabis net revenue was $50.4 million down 17% sequentially. The company sustained an Adjusted EBITDA loss of $12.3 million in Q3 which is narrow compared to the $20.9 million year over year. Currently, the company has established a strong balance sheet and executed an early repurchase of $141.4 million in convertible notes.
ACB Stock Performance
ACB stock closed at $2.42 on May 13th down 32.40% in the past month. Currently, the stock has a 52-week price range of $2.20-$10.64 down 55.27% year to date. According to analysts at CNN Business, ACB stock has a consensus price target of $4.51 per share. This would be an upside of 86.16% from its last trading price of $2.42.
[Read More] Best US Marijuana Stocks To Add To Your List For May 2022
Clever Leaves Holdings Inc.
Clever Leaves Holdings Inc. is a company that provides marijuana cultivation, extraction, manufacturing, and distribution. The company's current activities include Colombia, Portugal, Germany, the United States, and Canada. The two types of cannabis products are cannabinoids and non-cannabinoids. Homeopathic and other natural treatments, as well as health and detoxification products, are developed, manufactured, promoted, distributed, and sold by the corporation. Clever Leaves wants to disrupt the existing cannabis manufacturing sector by using ecologically sustainable, ESG-friendly, industrial-scale, and low-cost production procedures, as well as the world's most stringent medical-grade certifications.

Clever Leaves delivered its first-quarter 2022 results with $5.2 million in revenue up 50% year over year. In addition, gross profit was $2.0 million which includes a $0.8 million inventory write-down. The gross margin was 39% and the company sustained a net loss in Q1 of $16.1 million. Adjusted EBITDA was a loss of $6.7 million due to increased cost of sales including inventory write-downs.
CLVR Stock Performance
CLVR stock is trading at $1.05 on May 12th down 25% in the last month. Currently, the stock has a 52-week price range of $0.908-$12.40 and is down 66.13% year to date. According to analysts at CNN Business CLVR stock has a consensus price target of $4.00 per share. This forecast represents an increase of 279.15% from its last trading price of $1.05.
Protecting Your Investments And Using Multiple Strategies To Trade
It's critical to conduct your own research on a company before investing in top cannabis stocks. You can locate the best-performing companies in the market by looking at their financials and press releases. Additionally learning to use technical indicators to find the best entries can help increase your profitable trades. When navigating the turbulent cannabis market, many cannabis investors employ different trading tactics. In certain circumstances, they construct a long-term core position and then trade around it to profit from short-term price swings. As we continue to see market volatility these could be top marijuana stocks to add to your list Mid May.